Hey everyone! I hope you all had some amazing holidays with your friends and family! Mine was quite eventful! I went to visit my grandparents in Old Town, Maine, for Christmas and spend my New Year's Eve reading! (I also got super duper sick on Christmas so that was funnnn.) 🙂
Anyway, while I was in the United States, I did a bit of book shopping and I also got some amazing books that were on my TBR from my friends and family! In today's post I'm going to show you all of the new goodies I'll be adding to my shelves! I hope you enjoy and I am SO thankful for these new additions!
1. The Haunting of Hill House by Shirley Jackson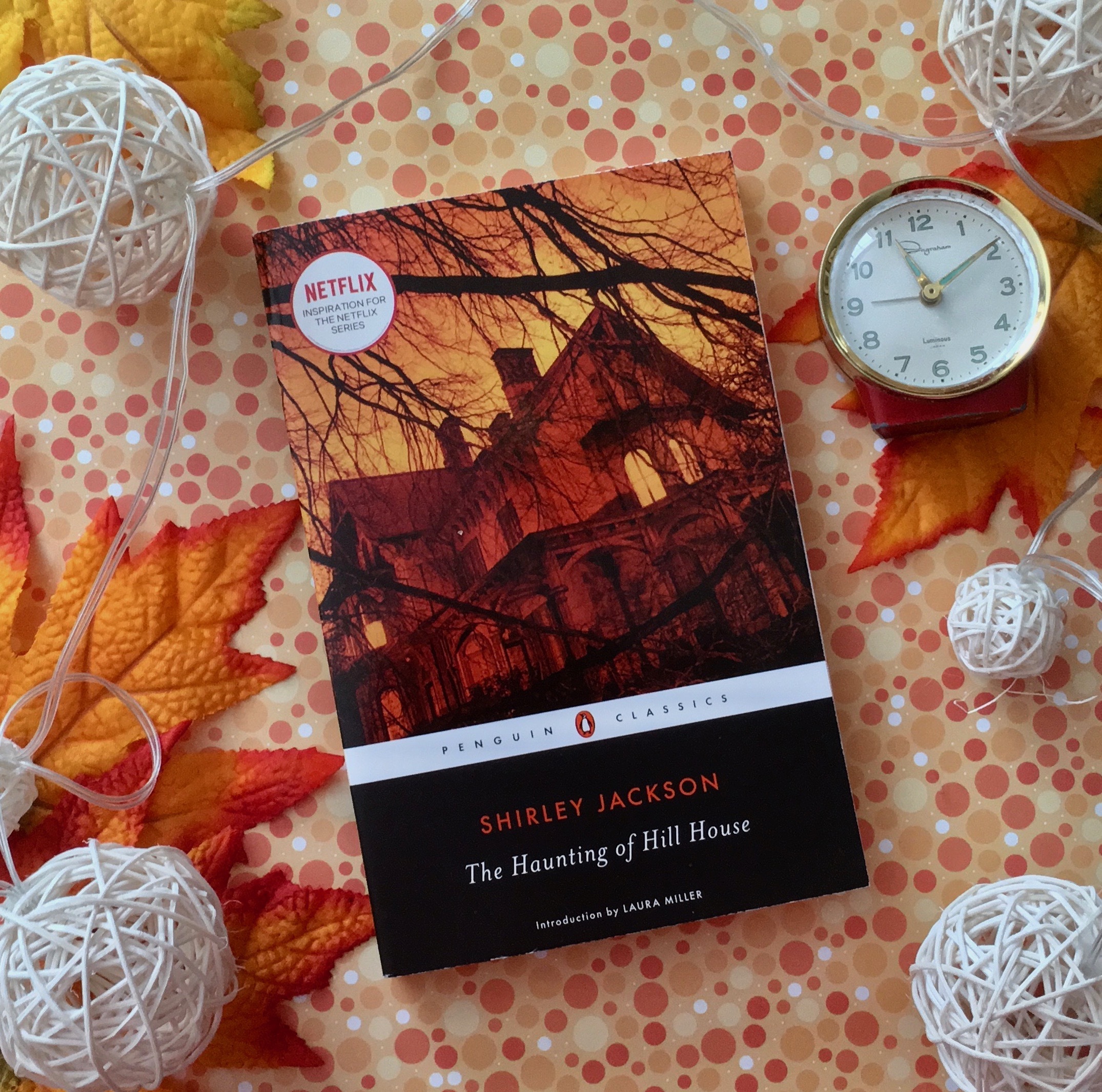 Publisher: Penguin Publishing Group
Publication Date: November 28, 2006
Pages: 208
Price: $15.21 CAN (Paperback) at Indigo Books & Music Online
---
Synopsis
First published in 1959, Shirley Jackson's The Haunting of Hill House has been hailed as a perfect work of unnerving terror. It is the story of four seekers who arrive at a notoriously unfriendly pile called Hill House: Dr. Montague, an occult scholar looking for solid evidence of a "haunting"; Theodora, the lighthearted assistant; Eleanor, a friendless, fragile young woman well acquainted with poltergeists; and Luke, the future heir of Hill House. At first, their stay seems destined to be merely a spooky encounter with inexplicable phenomena. But Hill House is gathering its powers—and soon it will choose one of them to make its own.
Now I'm not usually into horror in books, movies or tv shows, but I'm happy to have made an exception for The Haunting of Hill House. Hate on me all you want, but I actually watched the Netflix Original TV series before reading the book. I know that the book is quite different than the TV show but still, it was SO GOOD. I really like learning about haunted monuments and stuff like that and surprisingly, The Haunting of Hill House TV show was not as scary as I thought. It was more suspenseful and mysterious which led me to enjoy it more than I originally thought I would.
But my friends being my awesome friends bought me The Haunting of Hill House book for our gift exchange! I guess they really know me! (or maybe it was because I could not shut up about the show. Either way, I am thankful and I can't wait to read it!)
2.Classic Works From Women Writers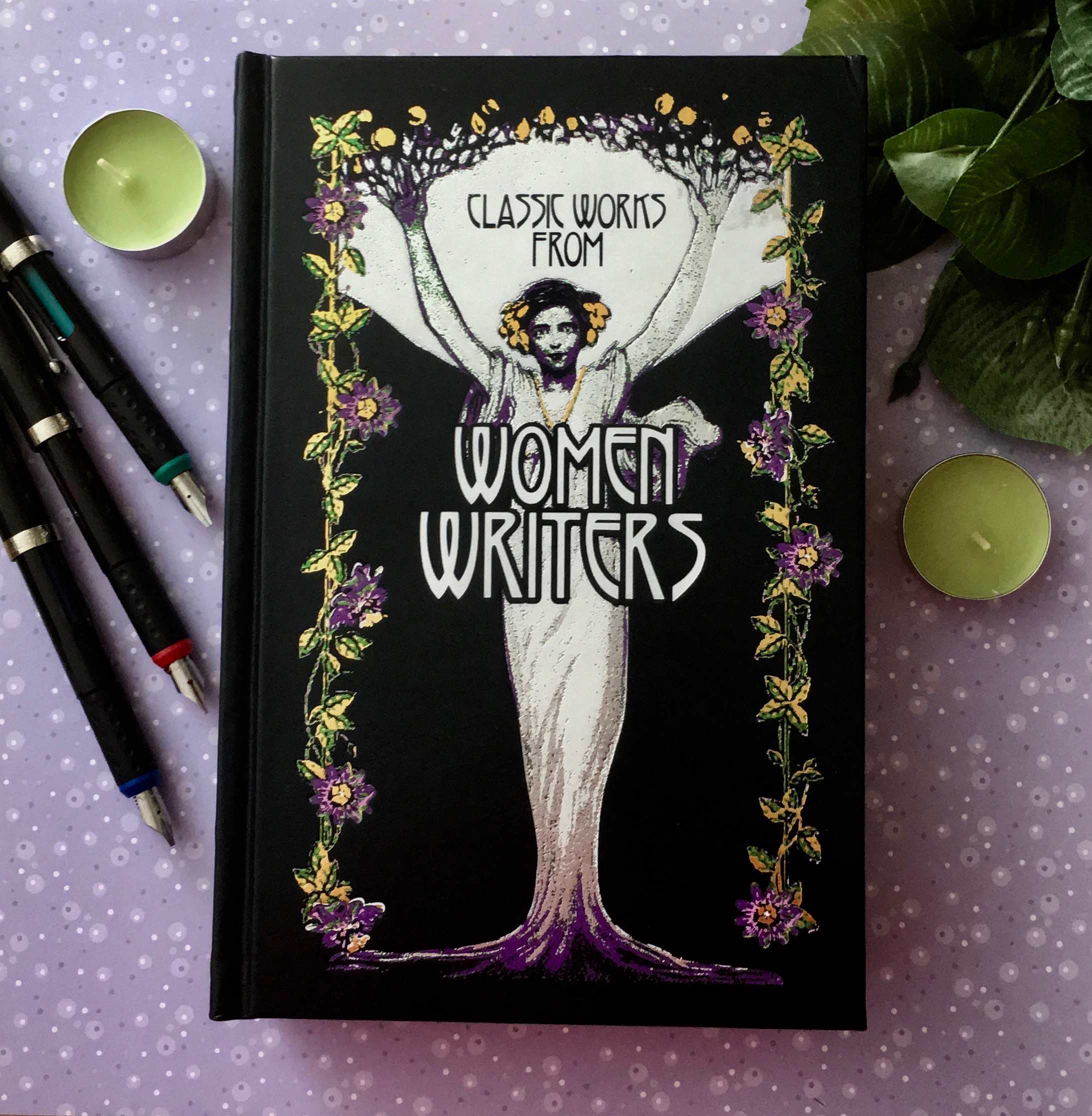 Publisher: Canterbury Classics
Publication Date: October 2, 2018
Pages: 896
Price: $24.25 CAD (Leather/Fine binding) at Indigo Books & Music Online
---
Synopsis
A fine collection of classic novels, short stories, poems, and essays from distinguished women writers.

Women writers have been making their voices heard for centuries, but their works were not always taken seriously. Over time, as women gained more social and political freedom, these works have reemerged as subjects that are considered to be worthy of closer study. Classic Works from Women Writers is a collection of more than thirty novels, short stories, poems, and essays by prominent and lesser-known female writers since the 17th century. Included in this volume are groundbreaking works such as Mary Shelley's Frankenstein; Agatha Christie's The Mysterious Affair at Styles, the first Hercule Poirot novel; Charlotte Perkins Gilman's short story "The Yellow Wallpaper" and her follow-up essay; and poetry from the likes of Christina Rossetti, Amy Lowell, and Sara Teasdale. The words of these authors offer a multitude of perspectives on different issues that affect not only women but the wider world as well.
I've really been trying to read more classics lately and most importantly classics written by women. (because feminism amiright!) While I was at Costco believe it or not (I left my house?!!!! crazy, I know.) I of course immediately scanned the book aisle and landed upon this bad boy.
I mean, logically, I bought it for the stories and poems inside right? That might no be the case for this purchase. See, I have an unnamed illness that prohibits me from not buying books with sprayed edges. (Not really but its pretty bad, everyone.) And NOT ONLY does Classic Works From Women Writers have GOLDEN sprayed edges it also has a bunch of foil accents in the flowers and I also happen to be a sucker for foil accents on book covers. So, logically, I was obligated to buy it and I do not regret it because I've already read some stories and they are so good! Plus, the bookshelf really is popping with this dude up there!
3.Jane Austen: Four Novels by Jane Austen
Publisher: Canterbury Classics
Publication Date: November 1, 2011
Pages: 808
Price: $31.06 CAD (Leather/Fine binding) at Indigo Books & Music Online
---
Synopsis
No library's complete without the classics! This new, enhanced leather-bound edition collects some of the most popular works of beloved author Jane Austen.

Jane Austen's stories of clever women, elusive love, and social mores have struck a chord with millions of fans who consider her work compelling, heartwarming, and essential. Adapted time and time again for screen and stage, these enduring classics remain as enjoyable as ever, the perfect addition to every home library.

This revised, elegant edition collects Austen's acclaimed novels Sense and Sensibility, Pride and Prejudice, Emma, and Northanger Abbey. New readers will be enchanted once they open the genuine leather cover, see the specially designed end papers, and read these brilliant stories, while readers familiar with Austen's genius will enjoy the introduction from an acclaimed Austen scholar that provides background and context for the works they've always loved.

Just like Jane Austen's memorable characters, readers will fall in love–with this remarkable keepsake!
I think mom caught on after my purchase of Classic Works From Women Writers, because under the tree was Jane Austen: Four Novels which is also a Canterbury Classic (that means leather bound, golden sprayed edges and foil on the cover for this one too!) Jane Austen is such an iconic writer and I previously had a copy of Emma and Northanger Abbey, but there were so many different editions and I wanted to get a matching set but some sets had Pride and Prejudice sold out and the box sets were very pricey but now I have all of them together in one beautiful book! (that also means more shelf space for more books! heheehehehe! Perfect! 😉 )
4.Sherlock Holmes Collection by Arthur Conan Doyle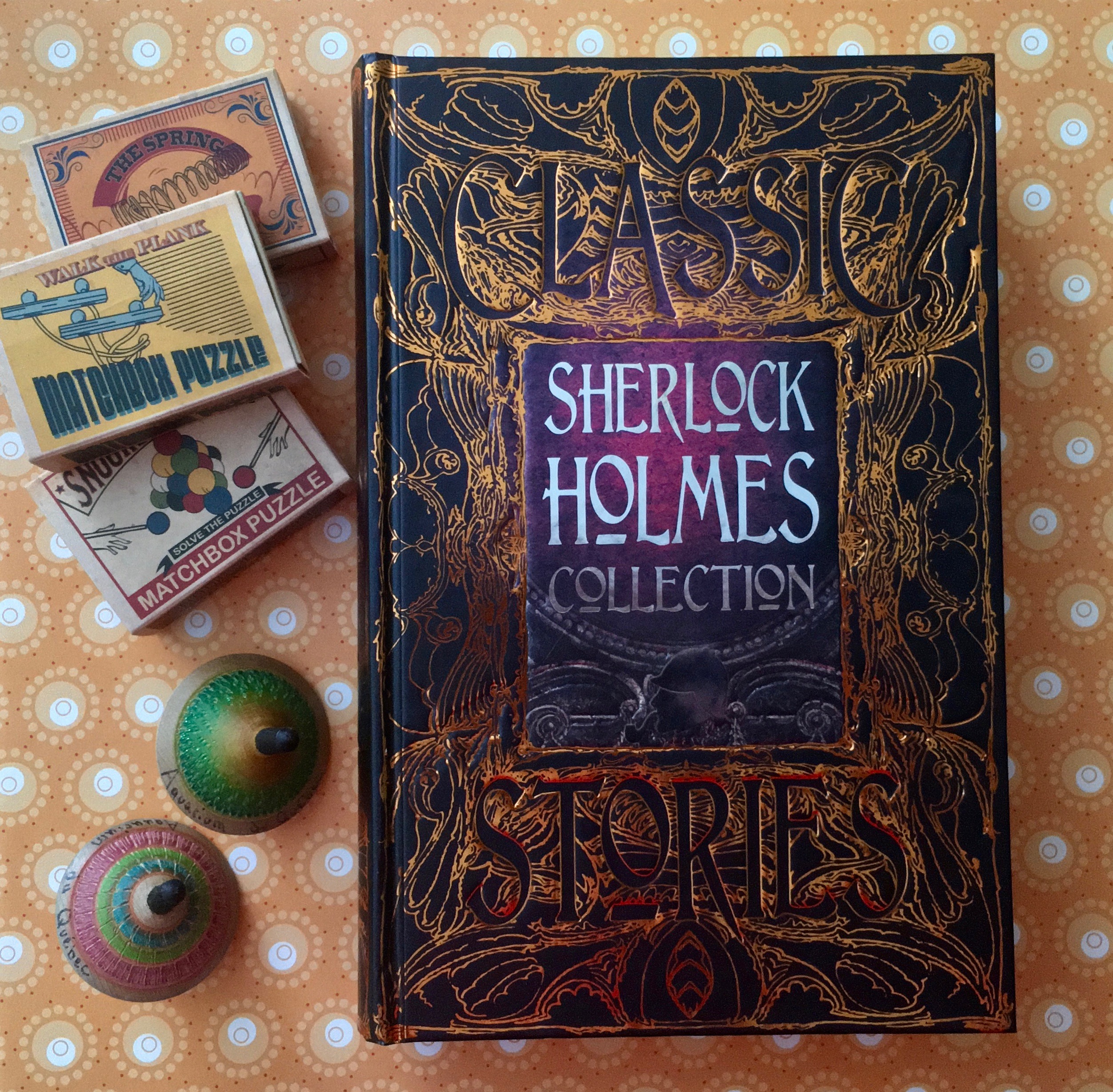 Publisher: Flame Tree Publishing
Publication Date: 2017
Pages: 479
Price: $23.09 CAD (Hardcover) at Indigo Books & Music Online
---
Synopsis
The consulting detective, Sherlock Holmes, and his faithful companion Dr Watson, are two of fiction's most intriguing figures.

This volume contains all four Sherlock Holmes novels – A Study in Scarlet, The Sign of the Four, The Hound of the Baskervilles and The Valley of Fear – as well as all the short stories originally collected in The Adventures of Sherlock Holmes and The Memoirs of Sherlock Holmes.

Facing down Victorian villains and elusive criminals with nothing more than his formidable powers of observation, Arthur Conan Doyle's Sherlock Holmes still has an unmatched ability to entertain.
The only things I know about Sherlock Holmes is the references Tiberius Blackthorn made in The Dark Artifices. (Notably, one of my favourite book series of all time.) But my uncle and aunt gifted this beautiful edition of the series for Christmas. My uncle proclaims these are some of his most favourite books of all time so I guess I'll give 'em a go. I should gift him a TDA box set when it comes out so he can read MY fav books! lol.
5. Five Feet Apart by Rachael Lippincott, Mikki Daughtry, and Tobias Iaconis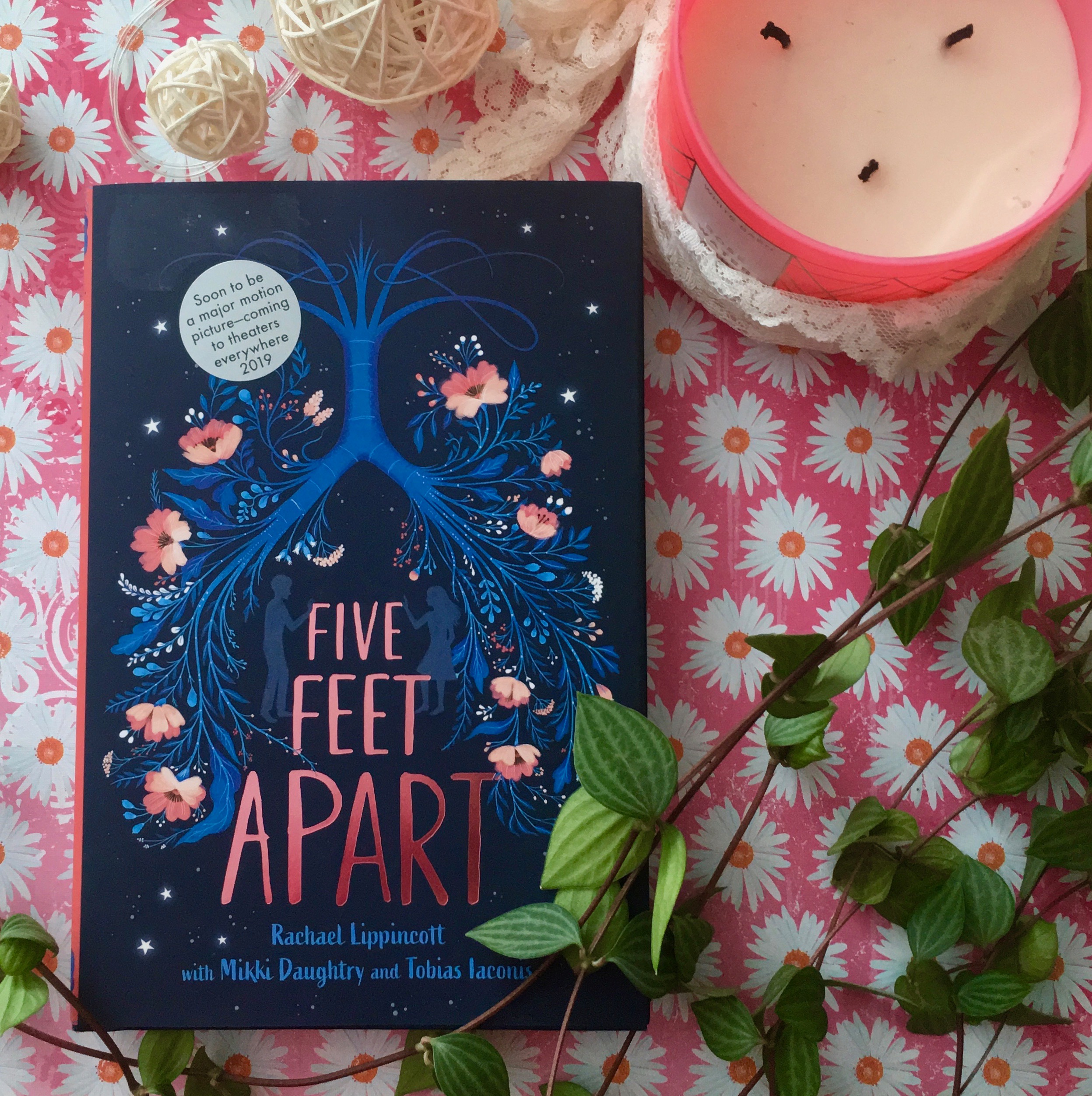 Publisher: Simon & Schuster Books for Young Readers
Publication Date: November 20, 2018
Pages: 288
Price: $20.19 CAD (Hardcover) at Indigo Books & Music Online
---
Synopsis
Can you love someone you can never touch?

Stella Grant likes to be in control—even though her totally out of control lungs have sent her in and out of the hospital most of her life. At this point, what Stella needs to control most is keeping herself away from anyone or anything that might pass along an infection and jeopardize the possibility of a lung transplant. Six feet apart. No exceptions.

The only thing Will Newman wants to be in control of is getting out of this hospital. He couldn't care less about his treatments, or a fancy new clinical drug trial. Soon, he'll turn eighteen and then he'll be able to unplug all these machines and actually go see the world, not just its hospitals.

Will's exactly what Stella needs to stay away from. If he so much as breathes on Stella she could lose her spot on the transplant list. Either one of them could die. The only way to stay alive is to stay apart. But suddenly six feet doesn't feel like safety. It feels like punishment.

What if they could steal back just a little bit of the space their broken lungs have stolen from them? Would five feet apart really be so dangerous if it stops their hearts from breaking too?
SOLD just by looking at that cover and the upcoming movie sticker. (This whole impulse-buying-pretty-books is getting SERIOUSLY out of hand!) I did have another reason thought so I'll give myself a point for that. Emma: 1 Pretty Books: 49660603
As soon as I know there will be a cheesy YA film adaptation, I'm right on it and I will hunt every library for that book until the movie is released. I don't really know why, maybe it's because when I'm watching the movies with my non-reader friends its almost as if I hold the all truth. For example, I have done this for Everything, Everything, To All The Boys I've Loved Before, The Mortal Instruments, After, The Great Gatsby, The Hate You Give, The Hunger Games, etc, etc. I just love knowing what's going to happen when everyone else does not. It's also really funny when the movie gets intense and my friends turn to look at me and are like: "NO, EMMA IS SMIRKING! SOMETHING BAD IS ABOUT TO HAPPEN!" like yeah, Peter Kavinsky is about to mess up BIG TIME! Same for the Shadowhunters: The Mortal Instruments TV Show where (Careful for spoilers) Clary dies in the season 3A finale. People at school are like "I CAN'T BELIEVE SHE'S GONE! NONONO!" And I'm in the corner laughing because only I know she is not dead they just pulled out Sebastian's stunts earlier in the show. ¯\_(ツ)_/¯ She been knew!
Anyway, I've already read Five Feet Apart. It only took me a day so if you are looking for a quick read here ya go! Super cute plot and I'll have my review up soon!
6.The Mortal Instruments Box Set by Cassandra Clare
Publisher: Margaret K. McElderry Books
Publication Date: September 1, 2015
Pages: 3488
Price: $107.99 CAD (Paperbacks) at Indigo Books & Music Online
---
Synopsis
All six books in the #1 New York Times bestselling Mortal Instruments series, now available in a collectible paperback boxed set.

Enter the secret world of the Shadowhunters with this handsomely packaged boxed set that includes City of Bones, City of Ashes, City of Glass, City of Fallen Angels, City of Lost Souls, and City of Heavenly Fire. The Mortal Instruments books have more than twenty-four million copies in print, and this complete collectible set of six paperback volumes is a perfect gift for newcomers to the series and for loyal fans alike.
AT LAST!
I have been looking for the TMI box set for two years because I could not bring myself to pay one hundred bucks for the box set and I found it, brand new, at a bookstore in Bangor for $53.50 USD (roughly $70 CAD) so it was quite the steal!
Cassandra Clare once again has proven to me that she holds my sanity in her hands with the conclusion of Queen of Air and Darkness, and I'm so happy that I can finally reread The Mortal Instruments and put myself through all that hysteria, all over again but without the grummy and stained library books! MERRY CHRISTMAS TO ME!
I mean aren't we all collectively screaming for TMI characters all the time?!
Well this wraps up my Christmas Haul! Let me know if you've read or own any of these books so we can talk about them! I'd love to hear what you did with your families and friends or what books you read during the holidays!
Happy 2019!
-Emma ♥♥♥