Authors: Rachael Lippincott with Mikki Daughtry and Tobias Iaconis 
Publisher: Simon & Schuster
Publication Date: November 20, 2018
 Pages: 288
Price: $25.99 CAD (Hardcover) at Indigo Books & Music Online
---
I usually do not read contemporary/cheesy romances so often because, well, the cheese factor. It sometimes gets a little too overwhelming. Although, I love reading books that have movie adaptations coming up so I can know the meaning behind everything in the movie and possibly spoil it to my friends (I know that's mean but it's fun!) Anyways, I saw the teaser trailer for Five Feet Apart and said "why not?" (The movie also has Cole Sprouse in it so I know people from my school will swoon for him but then I'll storm in and bear them the bad news. Mwahahaahahaha!
Synopsis 
Can you love someone you can never touch? 

Stella Grant likes to be in control—even though her totally out of control lungs have sent her in and out of the hospital most of her life. At this point, what Stella needs to control most is keeping herself away from anyone or anything that might pass along an infection and jeopardize the possibility of a lung transplant. Six feet apart. No exceptions.

The only thing Will Newman wants to be in control of is getting out of this hospital. He couldn't care less about his treatments, or a fancy new clinical drug trial. Soon, he'll turn eighteen and then he'll be able to unplug all these machines and actually go see the world, not just its hospitals.

Will's exactly what Stella needs to stay away from. If he so much as breathes on Stella she could lose her spot on the transplant list. Either one of them could die. The only way to stay alive is to stay apart. But suddenly six feet doesn't feel like safety. It feels like punishment.

What if they could steal back just a little bit of the space their broken lungs have stolen from them? Would five feet apart really be so dangerous if it stops their hearts from breaking too?

-Goodreads
First Sentence
"I trace the outline of my sister's drawing, lungs molded from a sea of flowers."
Review
I actually enjoyed this book! Not as much cheese factor as I thought!  I also picked it up after reading a long fantasy series, so it was really refreshing and a well deserved break from all that action that comes with YA fantasy.
Although I haven't read The Fault in Our Stars, nor any of John Green's books, simply because they do not appeal to me. (no hate!) I did see The Fault in Our Stars' movie adaptation and I got a very similar vibe from that movie and Five Feet Apart. I don't really know where I'm intending on going with this but, yeah, its pretty much the same thing but with Cystic Fibrosis instead of cancer. ¯\_(ツ)_/¯
I liked how the story was very straightforward, there was not dilly dallying with the beginning of the story and Stella meets Will only a couple pages in. I think this really helped me get into the momentum of the book (if that's a thing?) and is probably the reason why I read this book in four hours. (Thats right! I went to bed three hours after my bedtime and it was a school night! It took me four days to get back on track with my schedule!) This novel was also really interesting for me because I had absolutely no idea what the heck Cystic Fibrosis was. Well, that's not all true, I knew it happened in your lungs and that's it. Therefore, I had no idea that Cystic Fibrosis was that fatal and how people with CF can't even get close to each other (Hence, the whole plot of this book.) I guess that's what adds all the "suspense' to Five Feet Apart. I actually thought it was really cool that the book was very informative of the disease, such as the treatments, the consequences, what they must go through every day, etc. Plus, the two character POV really helped me identify the physical and psychological toll CF had on Will and Stella.
On the whole relationship part of the story in between Will and Stella. Their relationship was fairly well developed for a relationship that enforces you to stay five feet away from each other! Ugh, I won't spoil, but the was really good and had lots of suspense!
"Everyone in this world is breathing borrowed air"

– Five Feet Apart
Final Thoughts/Recommendation

I give this book four stars because not only did I learn a lot about Cystic Fibrosis and was a fairly cute story, it wasn't boring! I usually find most contemporary romance's really hard to get into and not that captivating but like I said earlier, I finished it in one evening! What I more or less disliked about Five Feet Apart, was that they sort of did things that do not seems realistic, like the party they threw in the kitchen? How did they plan that all out without getting caught, in a hospital swarming with staff?!
I'd recommend this book to someone who likes the whole "star-crossed lovers" type thing or wants a good, chill book to cleanse you after a long series or bring you out of that reading slump! I feel like people who read The Fault in Our Stars, will also enjoy Five Feet Apart!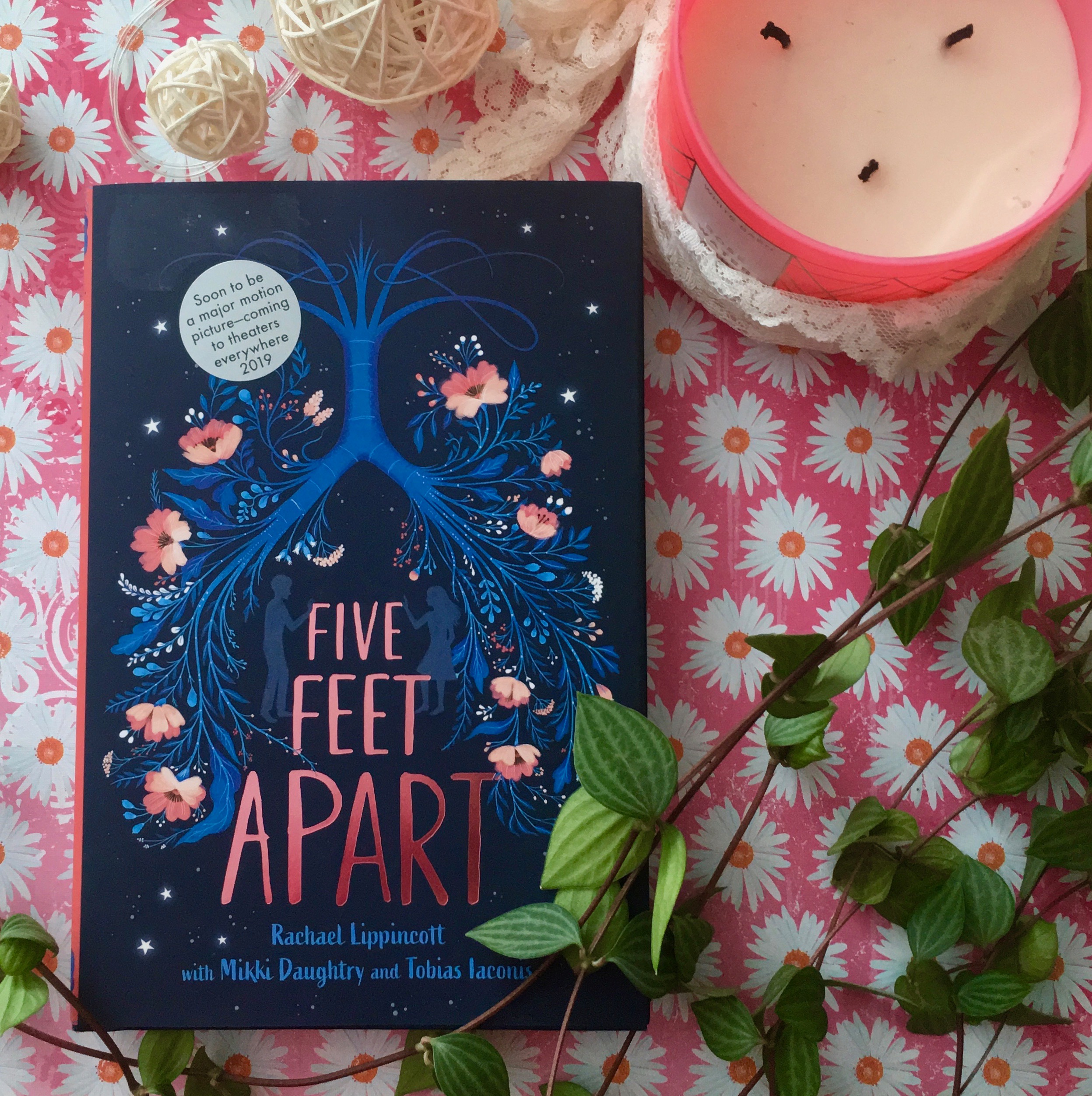 "If I'm going to die, I'd like to actually live first."

-Five Feet Apart
Let me know what you thought of Five Feet Apart or of my review!
(The movie Five Feet Apart starring Haley Lu Richardson and Cole Sprouse is expected on March 15th!)
Have an awesome week!
-Emma 🙂