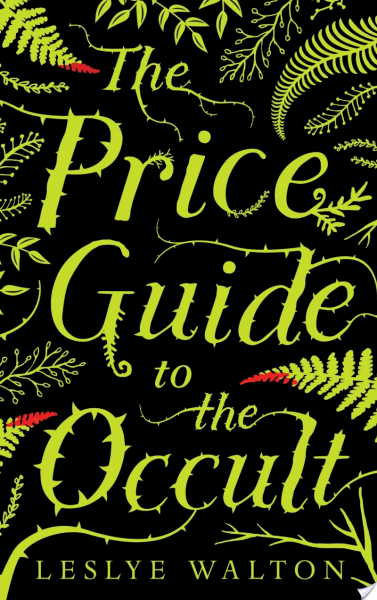 Author: Leslye Walton
Publisher: Candlewick Press
Publication date: March 13, 2018
Pages: 272
Price: $21.99 CAD (Hardcover) at Indigo Books & Music Online
---
Synopsis
From the author of The Strange and Beautiful Sorrows of Ava Lavender comes a haunting maelstrom of magic and murder in the lush, moody Pacific Northwest.

When Rona Blackburn landed on Anathema Island more than a century ago, her otherworldly skills might have benefited friendlier neighbors. Guilt and fear instead led the island's original eight settlers to burn "the witch" out of her home. So Rona cursed them. Fast-forward one hundred–some years: All Nor Blackburn wants is to live an unremarkable teenage life. She has reason to hope: First, her supernatural powers, if they can be called that, are unexceptional. Second, her love life is nonexistent, which means she might escape the other perverse side effect of the matriarch's backfiring curse, too. But then a mysterious book comes out, promising to cast any spell for the right price. Nor senses a storm coming and is pretty sure she'll be smack in the eye of it. In her second novel, Leslye Walton spins a dark, mesmerizing tale of a girl stumbling along the path toward self-acceptance and first love, even as the Price Guide's malevolent author — Nor's own mother — looms and threatens to strangle any hope for happiness.

-Goodreads
First Sentence
"They have been called many things."
Review
When I first saw The Price Guide to the Occult on the shelves of my local Chapters, I knew it would be coming home with me that night. The physical book itself looks mysterious and spooky -just how I like it- with bloody leaves on the cover, ruby red sprayed edges (One of my many weaknesses when it comes to books) and this thorny font that was used for the title. Overall, before even reading the synopsis this novel looked like my kind of read for sure! I mean a captivating synopsis + pretty & spooky cover + sprayed edges? Ain't no way I was going to let this one slide. 🙂
"Time might heal all wounds, but what about the scars those wounds left behind?"
― Leslye Walton, The Price Guide to the Occult
The storyline of this novel is really intricately composed. There are generations of Blackburn women that have been cursed because of what happened to the first Blackburn on their island, Rona Blackburn. These women all have some magical ability thats different from their other ancestors, except for Rona, who could like do pretty much anything. For example, Nor's grandmother can heal others ans Nor can hear what animals and plants think amongst other things. I like how they all had a special ability that distinguished them from each other but they were still all tied to Rona. At the beginning of the novel, in the prologue, we are also informed about what happened to Rona and how the curse started for the Blackburn women on the island. This prologue, I believe was really necessary because it made so many links to the main storyline later on in the novel.
The Price Guide to the Occult was a very enjoyable read for me, because not only was our main character, Nor, fighting a battle trying to figure out what was happening to the island and fighting her mother, is also battling herself. I like when novels do things like this, just adding in another problem subtly, like Nor's mental health disorders, but not have that mental illness as the main battle. In reality, metal illness is not the only battle, we can't preoccupy ourselves with only our mental illness when we live in a day and age where we have so much other things to worry about or to fight for. This aspect made The Price Guide to the Occult more captivating from an emotional viewpoint because we could see how much Nor was struggling with herself but she could not simply dwell on that because she needed to protect the island from her evil mom.
A couple of things I rather disliked from this novel where that some scenes that seemed quite irrelevant where delineated in the most meticulous matter, but then scenes that seemed important lacked detail and were sometimes a bit incomprehensible. The ending was also really open, and I know endings are usually an opening but this was a BIG opening, very vague and open for interpretation. I don't know if that was what they were going for? Maybe? I've read a lot of books so I can usually tell when they want to make us think about possibilities late into the night or if they just want to finish this book, I was getting the latter from this one. Part of me also thinks that maybe this was intentional for a sequel? I did some research and could not find any info on a sequel, but if there is one I will surely read it!
"Any decent human being, witch or otherwise, had the capacity to do good in this world. It's merely a case of whether one chooses to do so."
― Leslye Walton, The Price Guide to the Occult
Another quick thing to add was that I liked how modernistic the environnement of the book is. I mean, the Blackburn's are witches that have been prowling the island for centuries but nor works at this little tour & gifts shop for the island and she has an iPhone. Usually when I read books about witches, they are portrayed as these century old spell-casters who survive merely on their own flame. The modern twist to The Price Guide to the Occult added a fun touch and really amused me.
Final Review|Recommendation
All in all, this was a super awesome read! I just wished there were more details for some scenes that seemed to be really important rather than scenes that did not really contribute much to the plot. I'd recommend this book to anyone who likes a paranormal mystery or who likes books about witches! (I sure know I do!) Also if you liked The Wicked Deep, you would probably really enjoy this one because they both have very similar approaches!
"Treat others with respect, and one should seldom be in need of protection. As for the times when this is not effective, one should do oneself a favor and get a knife."
― Leslye Walton, The Price Guide to the Occult
Tell me what you thought of The Price Guide to the Occult or my review!
Have a good day. 🙂
-Emma ♥♥♥