Author: Cassandra Clare
Illustrator: Cassandra Jean
Publisher: Simon & Schuster Children's UK
Publication date: November 1, 2016
Pages: 208
Price $20.00 USD (Hardcover) at Topatoco
---
Synopsis 
A very special anthology that's a must for all fans of the Shadowhunter novels!

Featuring characters from Cassandra Clare's international best-selling novels from the Shadowhunters world including The Mortal Instruments, The Infernal Devices and The Dark Artifices, this anthology showcases beautifully illustrated portraits from Cassandra Jean – creator of The Shadowhunter Tarot – alongside never-before-known details from Cassandra Clare about all your favourite characters.
Review
Ah, Shadowhunters. The only YA out there that really matters…. Just kidding! But If you have been here before you must know that I am quite the fan of Cassandra Clare!
For once, this Cassandra Clare review will be very short! There isn't much to say about this book because it actually is not a story at all but rather a sort of picture book with descriptions and secret facts about all of the characters in the Shadowhunter World. I never actually considered to buy this book, but that was before I saw all of the beautiful character artwork Cassandra Jean made for the book. Now I'm not really an arty girl but boy o boy do I love flowers and this book is full of them! A flower for each character! All the flowers had different meanings too and the flowers in some way reflected the characters personality! How neat!
While I was looking at pre-ordering Queen of Air and Darkness back in November, I had some money on amazon that I hadn't spent and after adding QoAaD to my cart I still had ten bucks left. I couldn't think of any other books I wanted that were just ten bucks but then I say this book being sold second hand for nine dollars. It was quite the steal, if I do say so myself, and I feel like quite the bargain hunter, even months later.
I use A History of Notable Shadowhunters & Denizens of Downworld as a prop behind some of my Shadowhunter-related reviews and its real handy for when I pick up another SH novel and I forget some characters, in a way, its sort of like a character dictionary!
Here are some photos of mine that have included A History of Notable Shadowhunters & Denizens of Downworld!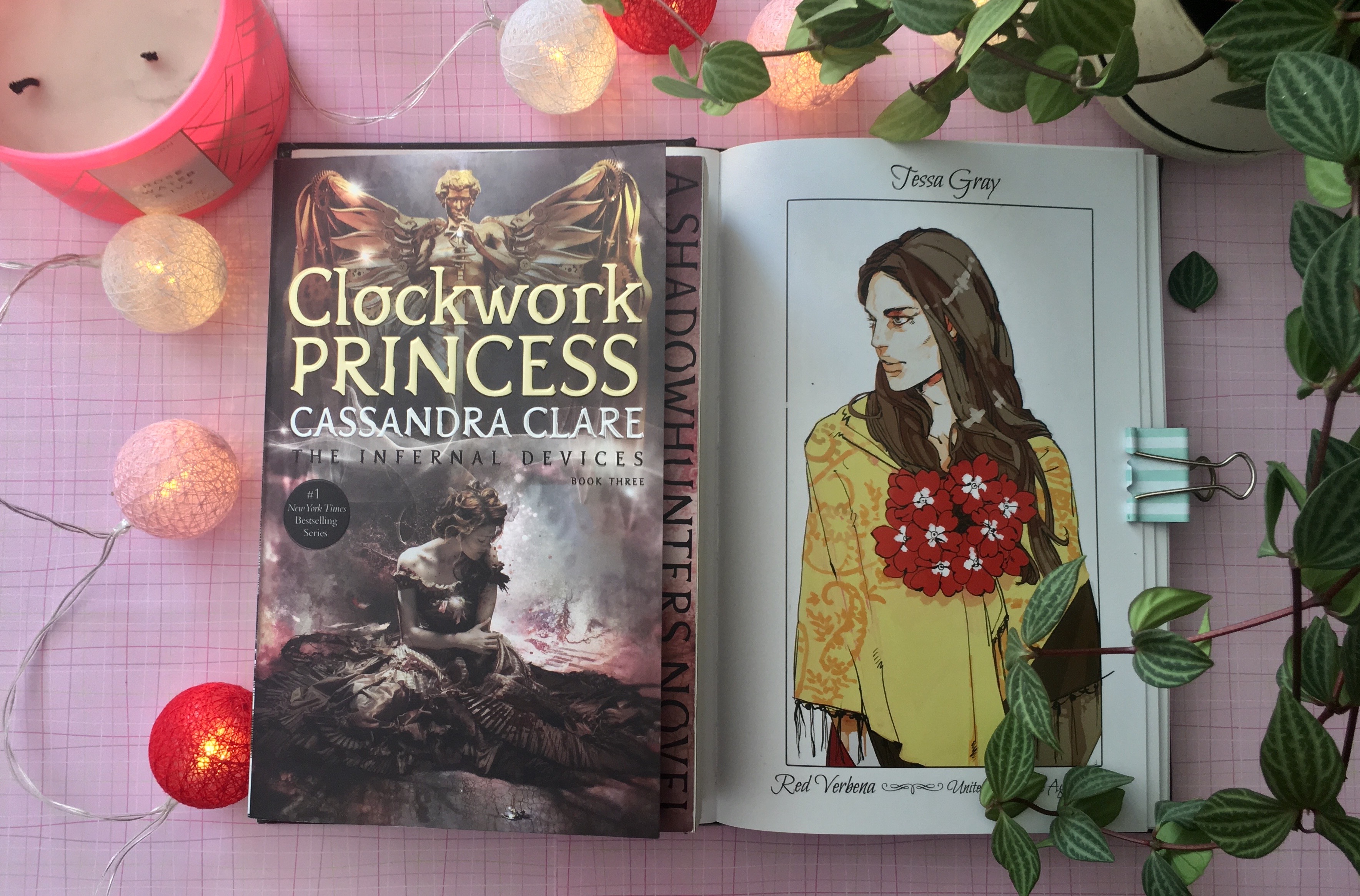 Final Review/Recommendation 
Super cute and super handy!  Not only does it give me info on all of my favorite characters but it also includes snazzy artwork and is a perfect prop. Like any other Cassandra Clare book, 5 out of 5 stars. A perfect gift for a SH fan or collector! I obviously recommend this book to someone who has read and enjoyed some or all of the Shadowhunter novels because it wouldn't really make any sense to someone who hasn't read the book lol.
Have a good day!
-Emma 🙂