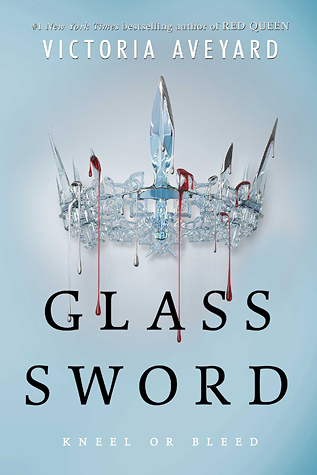 Author: Victoria Aveyard
Publisher: Harper Teen
Publication Date: February 9, 2016
Pages: 444
Price: $17.12 CAD (Hardcover) at Indigo Books & Music Online
---
Synopsis
If there's one thing Mare Barrow knows, it's that she's different.

Mare Barrow's blood is red—the color of common folk—but her Silver ability, the power to control lightning, has turned her into a weapon that the royal court tries to control.

The crown calls her an impossibility, a fake, but as she makes her escape from Maven, the prince—the friend—who betrayed her, Mare uncovers something startling: she is not the only one of her kind.

Pursued by Maven, now a vindictive king, Mare sets out to find and recruit other Red-and-Silver fighters to join in the struggle against her oppressors.

But Mare finds herself on a deadly path, at risk of becoming exactly the kind of monster she is trying to defeat.

Will she shatter under the weight of the lives that are the cost of rebellion? Or have treachery and betrayal hardened her forever?

The electrifying next installment in the Red Queen series escalates the struggle between the growing rebel army and the blood-segregated world they've always known—and pits Mare against the darkness that has grown in her soul.
First Sentence
"I flinch."
Review
Red Queen was super wild, so I originally thought that in Glass Sword, things would calm down… but JEEZ I was mistaken! Things are getting even more intense!
In this novel, Mare and Cal's relationship reaches new heights, Cal is skeptical because Mare did betray him and his crown, but he also know that Mare is the only one who saw what truly happened to the former king. Their growing friendship and trust was really interesting to watch develop. Same as seeing for the first time who Maven truly is. He was so docile and friendly during the first novel, its so crazy to think that was all an act!
I like this book much more than I liked the first one, mainly because it goes straight to action, whereas in RQ, there was a lot of explanations and introductions, GS starts right in battle, Mare and Cal have escaped and are currently fleeing with the Scarlet Guard. As soon as you flip to the first page, you are already on the edge of your seat.
"Fire and lightning raised Maven up, and fire and lightning will bring him down."
― Victoria Aveyard, Glass Sword
Retelling everything that I liked from this book would take me all day, but the one thing that I did not like, was the loss of one of my favorite characters… I won't spoil, but that loss got some tears out of me. Sacrificial deaths always get the best of me like they really did not need to do that but they did it anyway…. ouf!
Final Review/Recommendation
I think Glass Sword was even better that Red Queen, so much happened, yet it wasn't to overwhelming. We get to see the real faces of some of the characters and we get to know new faces too! I think that this series is off to a really good start.
I'd recommend this book to someone who read and enjoyed Red Queen, obviously, and to someone who likes dystopian YA, because these books might just make it on my fav YA dystopian series!
"If I am a sword, I am a sword made of glass, and I feel myself beginning to shatter."
― Victoria Aveyard, Glass Sword