Four years ago I walked into my local chapters waiting to get picked up after a day of shopping excursions with some friends. As I roamed the stacks of books aimlessly – since I wasn't that big of a bookie and usually relied on the box sets my parents chose for me as Christmas presents – I was very ill informed on the big books of the literary world. But there, in this amazing section of the store; Young Adult Fiction, I almost knocked over this big cardboard box filled with this book I'd never heard of. Dear Reader, that book was City of Bones. From that day forward I was forever changed! Now sure, I am aware of how absolutely insane these chronicles are, but I have never wanted to be in a fictional world as bad as I want to be in this one so just let me freak out over Chain of Gold because there's quite a hype for this one.
Some Details
---
Author: Cassandra Clare
Series: The Shadowhunter Chronicles, The Last Hours #1
Published: March 3rd 2020
Publication House: Margaret K. McElderry Books
Pages: 624
Genres: Fantasy, Young Adult, Thriller, Romance
---
Synopsis
Chain of Gold is the first novel in a new trilogy that stars the Shadowhunters of Edwardian London.

Welcome to Edwardian London, a time of electric lights and long shadows, the celebration of artistic beauty and the wild pursuit of pleasure, with demons waiting in the dark. For years there has been peace in the Shadowhunter world. James and Lucie Herondale, children of the famous Will and Tessa, have grown up in an idyll with their loving friends and family, listening to stories of good defeating evil and love conquering all. But everything changes when the Blackthorn and Carstairs families come to London…and so does a remorseless and inescapable plague.

James Herondale longs for a great love, and thinks he has found it in the beautiful, mysterious Grace Blackthorn. Cordelia Carstairs is desperate to become a hero, save her family from ruin, and keep her secret love for James hidden. When disaster strikes the Shadowhunters, James, Cordelia and their friends are plunged into a wild adventure which will reveal dark and incredible powers, and the true cruel price of being a hero…and falling in love. – Goodreads
My Thoughts!
---
Although I own many Cassandra Clare books, Chain of Gold is my first novel of her's that I have signed. Which is very big for me. (This makes only my second signed book along with Broken Throne by Victoria Aveyard. All this to say that yes, I'm looking at a custom glass case to rest this book in.
If anyone has me on Goodreads they'd know that my 2020 was off to a rough start. I was really flustered with all of schoolwork and my job that I really slacked. Then COVID-19 hit Fredericton and shut down my school for the rest of the academic year. I thought I'd have plenty of time to read but no! IB classes persist! Anyway, when all that was finally over my job called me back in, so I was still quite preoccupied, plus I was at the time leasing a horse which was very exciting and very time consuming! Shockingly, on June 25th my horse spooked and I fell off, fracturing my right Humerus in the process. Now, I have no horse to lease and my doctor requested 3 months off work! All of this really sucks but as I was sitting in the ER alone because of COVID regulations, amped on lots of drugs, I thought of something that had evaded my mind since February: "Damn I'd sure like to have a book with me right now!" So here I am typing away – one handed – in a bed of eight pillows writing one of my many reviews to come!
Now to the book!
First off, the setting of this novel is what drew me in. I loved the Victorian setting of The Infernal Devices, and the setting in this new series gave me just as much excitement. The style, society, and traditions are so different and for me added more interest because there are many elements that could not be applicable in The Mortal Instruments or The Dark Artifices. For example when Cordelia stood up for James by putting herself on the line and deeming herself improper and ruined to society, leading to the Marriage Blanc, is something that could not be applicable or deemed necessary in the latter series because they do not take place in an era where social position was so important. I always thought that I'd love living in this time but then I remember that women had like zero rights so I'm like :/ .
"The point of stories is not that they are objectively true, but that the soul of the story is truer than reality. Those who mock fiction do so because they fear the truth."
― Cassandra Clare, Chain of Gold
Overall I liked all of the characters for the most part except of course Grace and Tatiana Blackthorn; eugh, the antagonists that piss me off! Once I started the book I was pretty much hooked t'ill the end as I am for most of Clare's novels!
My favorite scenes where when James entered the demon realm and Matthew decided to tie a rope to him and James so that he could pull him out need be and when Matthew started getting slammed into the entrance because the rope wasn't long enough, Cordelia cut the rope off Matthew and tied it on herself but when she couldn't stand the pain she took Cortana and cut through into the demon realm and saved James from his spooky demonic grandpa!
Another favorite scene would be when Matthew explains the meaning of the green rose on his shirt to Cordelia. I know it was a lot less public in those times but I think it's really nice to have characters like Anna Lightwood, Alastair Carstairs, and Matthew in a novel that takes place in that era and that most authors would probably neglect. We need more LGBTQIA2S+ representation in period pieces! I also appreciated that TLH's main character is a POC because I think we where due that.
There are also the multiple parts throughout the book where either Tessa, Will, Jem, or Lucie and James reference the happenings in The Infernal Devices and I dunno there's something so nice about the links I can make to the sister series. I also remember Emma Carstairs talking about Cordelia and they've both wielded Cortana. Idk maybe it's just me but I think that the connections through the generations and through the series is really sweet! 🙂
The Wrap Up
---
The only regret I have for this novel is that I was I would have read it way sooner. I didn't have high hopes but now I've realized how wrong I was to judge so soon! Now I must hibernate until March 2021 for Chain of Iron! (look at the cover though! I'm liking the whole crazy hair thing Clare has done for the new series.)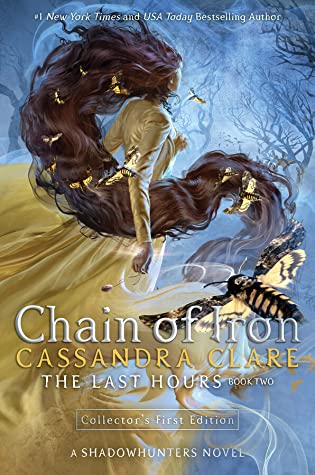 "There is no better distraction in this world than losing oneself in books for awhile."
― Cassandra Clare, Chain of Gold