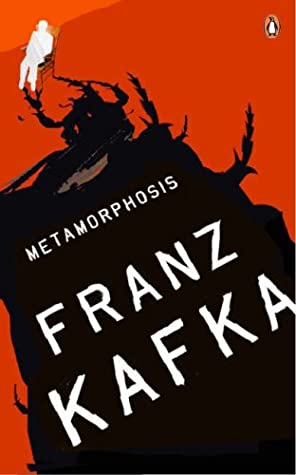 Surprisingly, I love this TV show called Gilmore Girls which aired like a year after I was born. One of my friends recommended this show to me and I thought I would not enjoy it because of how mundane it was. Truly, I find that nothing major has happened since season one but I watch it anyway because it's heartwarming and sweet and there is a possibility that I am manifesting a dream to live in a place as quaint and cute as Stars Hollow. As it happens, Rory Gilmore, one of the main characters is a big bookie. Naturally when she talks about books I tend to listen closely. I remember in some episode she made a sly comment about The Metamorphosis and since it is my dream to be as fluent in book references as Rory Gilmore, I decided I should pick this one up.
Some Details
---
Author: Franz Kafka
Original title: Die Verwandlung
Original language: German
Published: 1915 (this edition, 2006)
Publisher for this edition: Penguin
Pages: 98
Genres: Classics, Fiction, Fantasy, Literature, Short Stories, Philosophy
Synopsis
---
"As Gregor Samsa awoke one morning from uneasy dreams he found himself transformed in his bed into a gigantic insect. He was laying on his hard, as it were armor-plated, back and when he lifted his head a little he could see his domelike brown belly divided into stiff arched segments on top of which the bed quilt could hardly keep in position and was about to slide off completely. His numerous legs, which were pitifully thin compared to the rest of his bulk, waved helplessly before his eyes."

With this startling, bizarre, yet surprisingly funny first opening, Kafka begins his masterpiece, The Metamorphosis. It is the story of a young man who, transformed overnight into a giant beetle-like insect, becomes an object of disgrace to his family, an outsider in his own home, a quintessentially alienated man. A harrowing — though absurdly comic — meditation on human feelings of inadequacy, guilt, and isolation, The Metamorphosis has taken its place as one of the most widely read and influential works of twentieth-century fiction. As W.H. Auden wrote, "Kafka is important to us because his predicament is the predicament of modern man."
First Sentence
---
"One morning, when Gregor Samsa woke from troubled dreams, he found himself transformed in his bed into a horrible vermin."
My Thoughts
---
The Metamorphosis is a one of a kind book for me. How did Kafka come up with such a story?!
I love how this story begins right in the action. Gregor wakes up and he's a bug. There's no moment for interpretation as to how this possibly could of happened or as to what he could have done the previous day which grasped my interest. It also made me question what Gregor's relationship with his body was before the fact; did he wish for another? Was he neglecting his body in a way that led it to retaliate by turning him into vermin? Lots of questions were asked just as I read the first couple of pages.
The imagery from this novel was both enticing and repulsive; almost as if I could see the pest Gregor has become right before my eyes. The writing was not lacking and since it is a translation I'm surprised at how fluid it was to read. (Sometimes I reread english books translated to french the second time so I can work on my french and you would not believe some of the books that just suck in french.)
"I cannot make you understand. I cannot make anyone understand what is happening inside me. I cannot even explain it to myself."
― Franz Kafka, The Metamorphosis
Another point I'd like to make is to the downfall of Gregor's character. Before he was turned into this vermin he was the man of the house paying all of the bills and working while his parents stayed home and his sister went to work. I find it interesting that as soon as Gregor gets sick his parents dismiss him completely and do not try to help him but rather lock him in his room. Gregor has spent years helping his family out financially and in return the family is unable to help him when he really needs it. Much like Frankenstein, I think that Gregor has also grown miserable and ashamed of himself. Should he of had accepting parents, or at least parents that would not hit him with sticks and cry at his repulsive presence, perhaps he would have had more of a will to live. The relief that the parents feel when Gregor died was astonishing to me because yes, he had turned into a wretched thing, but he was still your son and you should at least treat him as if you know he's still in there, which he actually was. Of course, I would be scared if my brother became a giant bug, but I would hope that I would look for help instead of locking him away and I would hope to realize that even though his exterior is different he would be the same person I'd always known on the inside.
I think that the Samsa family should of done more for Gregor. He served them well for years and they should of returned the favour wether he looked like himself or not.
The Wrap Up
---
Franz Kafka's The Metamorphosis is a riveting read on my account. The story really made me think about what I would have done in all the characters positions and how the ordeal would have impacted me. The Metamorphosis is also on the shorter side, perfect if you're looking for a quick afternoon read. Of course, I also have much appreciation for the uniqueness of this story, and I believe it is one we should all read at least once. (even if you don't like bugs!)
"A picture of my existence… would show a useless wooden stake covered in snow… stuck loosely at a slant in the ground in a ploughed field on the edge of a vast open plain on a dark winter night."
― Franz Kafka, Metamorphosis
Buy The Metamorphosis from Indigo Books & Music Canada here.
Add The Metamorphosis to you Goodreads list here.