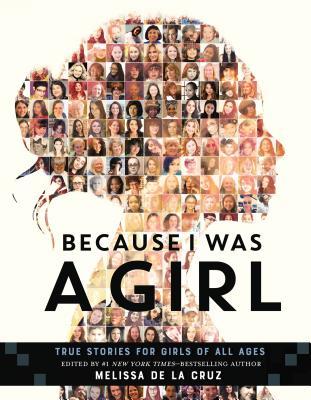 I picked up this book right after I finished the Red Queen series mainly because it interested me but also because Victoria Aveyard is a contributor for this book which I thought was cool. I've also read The Ring and the Crown and Blue Bloods my Melissa de la Cruz and they where pleasant reads too.
Some Details
---
Authors: Melissa de la Cruz (Editor), Victoria Aveyard (Contributor), Libba Bray (Contributor), Margaret Stohl (Contributor), Stacey Snider (Contributor), Quvenzhane Wallis (Contributor), Elizabeth Acevedo (Contributor), Zareen Jaffery (Contributor), Anjenette Johnston (Contributor) 
Title: Because I Was A Girl: True Stories for Girls of All Ages
Published: 2017
Publisher: Henry Holt and Co.
Pages: 240
Genres: Non Fiction, Feminism, Anthologies, Short Stories, Memoir
Synopsis
---
Because I Was a Girl is an inspiring collection of true stories by women and girls about the obstacles, challenges, and opportunities they've faced…because of their gender. Edited by #1 New York Times-bestselling author Melissa de la Cruz, the book is the perfect gift for girls of all ages.

The collection includes writings from an impressive array of girls and women who are trailblazers in their fields, including bestselling authors Victoria Aveyard, Libba Bray, and Margaret Stohl; industry pioneers like Dolores Huerta, Trish McEvoy, and Holly Knight; renowned chef Katie Button; aerospace and mechanical engineer Emily Calandrelli; and many more.

Because I Was a Girl features powerful stories from:

Elizabeth Acevedo
Katrina Adams
Victoria Aveyard
Bonnie Bartlett
Brenda Bowen
Libba Bray
Katie Button
Emily Calandrelli
Babette Davis
Williabell Jones Davis
Melissa de la Cruz
Abby Falik
Jena Friedman
Joan Hanawi
Jane Hawley
Tina Hay
Jody Houser
Dolores Huerta
Zareen Jaffery
Anjanette Johnston
Mattie Johnston
Holly Knight
Jill Lorie
Zoey Luna
Trish McEvoy
Loretta Miranda
Gloria Molina
Susan Morrison
Anna Ponder
Margaret Semrud-Clikeman
Rebecca Soffer
Cheri Steinkellner
Margaret Stohl
Noor Tagouri
Tillie Walden
Quvenzhane Wallis
Francesca Zambello
Lenore Zion
First Sentence
---
"When I was young, my mother, a feminist, treated my brothers and me equally: We all had to do the dishes, cook, and make the beds."
My Thoughts
I was already invested after reading the first page. Because I Was A Girl: True Stories for Girls of All Ages, is a great book about an important cause. I'm hearing all the time nowadays about the equal right movement for women and I know this is an important cause, but living where I am now I'm lucky to have never really seen or experienced that must sexism in my life. This book is really eye opening for someone like me who often thinks that life is generally good for women. Hearing stories from other countries and about the women who live there is really surprising. I literally just remembered how some girls still can't go to school. There are so many things we aren't aware of because they happen in smaller countries and/or do not obtain any media coverage which is really crazy to me when I think about it.
"Bottom line: Do what you love, not what you think is expected of you. Follow your true passion no matter where it leads. It will help you find your strength in life and success, but more important, happiness will follow." -Katie Button, Because I Was A Girl: True Stories for Girls of All Ages
There was a lot that was different from these girls stories compared to my experiences but there where also many thing in common. Luckily I am a girl who can get an education and lead an independent life should I choose to do so but there are still many stereotypes focused on girls and women that can be heard sometimes at my school. To know that there is some girl who I do not know that has dealt with a similar thing is reassuring.
The Wrap Up
---
Because I Was A Girl: True Stories for Girls of All Ages is a riveting and educational read. Not only will women feel heard by sharing and reading stories like this, but other girls can read these stories and learn to adapt and fight against oppression too. Lots of these stories have good happy endings which is very heartwarming. I thrilled to read and talk about a book by all-women authors!
"If you have a dream, don't waste a second before chasing it. You are the one only architect of your life, and the sooner you start planning and building, the sooner you will enjoy a life you love." -Because I Was A Girl: True Stories for Girls of All Ages
Buy Because I Was A Girl: True Stories for Girls of All Ages from Indigo Books & Music Canada here.
Add Because I Was A Girl: True Stories for Girls of All Ages to your Goodreads list here.