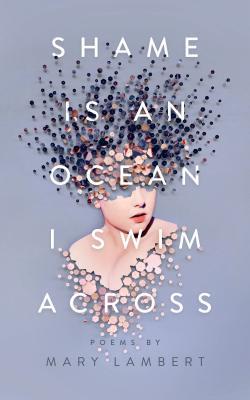 I believe it was during Clockwork Reader's bookshelf tour that I first saw Shame Is an Ocean I Swim Across. I was looking for another poetry book but I'd like to say that when I was walking around at Chapters I did not bring this one home because of how beautiful the cover is for this edition.  Although! I did read the synopsis and the first poem before I bought it and was genuinely interested! I don't mind having this one on my shelf though… I wish I wasn't such a sucker for covers.
Some Details
---
Author: Mary Lambert
Title: Shame Is an Ocean I Swim Across
Published: 2018
Publisher: Feiwel & Friends
Pages: 176
Genres: Poetry, Non Fiction, Mental Health, LGBTQ, Modern Poetry, Self Love
Synopsis
---
Beautiful and brutally honest, Mary Lambert's poetry is a beacon to anyone who's ever been knocked down—and picked themselves up again. In verse that deals with sexual assault, mental illness, and body acceptance, Ms. Lambert emerges as an important new voice in poetry, providing strength and resilience even in the darkest of times.
First Sentence
---
"When I was fifteen, I hated everything except for Wheezer and maybe like two people."
My Thoughts
---
Shame Is an Ocean I Swim Across is a shocking read. I felt like I was slapped in the face after the first couple pages. Lambert's poetry is mesmerizingly brutal and deep. It's amazing to me to see how someone can make beautiful art in telling such a sad real story.
"Just because I evolved, doesn't mean I am spineless.
Just because I am malleable, doesn't mean I am undeserving"
― Mary Lambert, Shame Is an Ocean I Swim Across
One of the things I didn't really like about this book was how depictive it the poems are. I felt super uncomfortable reading some poems because I was just in disbelief that these things happened to a person and they survived it. What was also surprising to me what thinking about the enormous amount of bravery it takes to share these poems and stories with the world. Mary Lambert is a really strong individual.
"i wonder how many women
are painting themselves into movie girls
while they sleep
angling their faces alien
to themselves, an unnecessary surrender
to things that kill them,
to things that are not real

I tell myself in the mirror,
applying the second coat of mascara:
these things are not real"
― Mary Lambert, Shame Is an Ocean I Swim Across
I find that even though there are times where this book was hard to read, I would still read it even though it was rough because by reading these poems I am no blinding myself from the truth. I am putting myself in the shoes of a victim to see how life is like from their perspective. Reading books wether fiction or non fiction have greatly helped me understand and sympathize with certain groups that I might never dream to understand in real life. Reading and publishing more books like these are destigmatizing society and in my opinion are helping people understand one another and creating a unified community. Mary Lambert's is using her platform to talk about her issues and troubles but she's also talking for all of the girls that don't have a platform and don't have someone to listen. Shame Is an Ocean I Swim Across will shake you to the core; but it's a worthy ride. I have mad respect for Lambert to publish subjects that are so personal. I understand that I might have to feel a little uncomfortable if I want to acknowledge the truth.
The Wrap Up
---
Mary Lambert's Shame Is an Ocean I Swim Across is an eye opening read. Although, I suggest you prepare yourself for this one. Once again books are not only hobbies and homework, they open you eyes to a world you've never lived and never thought to exist in. Good or Bad. I personally love getting a glimpse into someone else's mind through their writing. Shame Is an Ocean I Swim Across is just the fix for me. 🙂
"No one else lives in your body
You are enough, as you are, today"
― Mary Lambert, Shame Is an Ocean I Swim Across
"Love your own body like your mom loved your baby feet."
― Mary Lambert
Buy Shame Is an Ocean I Swim Across at Indigo Books & Music Canada here.
Add Shame Is an Ocean I Swim Across to your Goodreads list here.