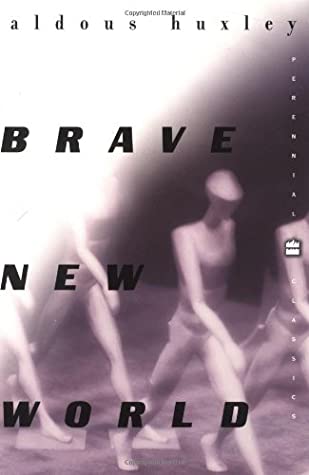 I lent this book from my library a while back because I noticed my older sister reading it and I thought it was very strange since I'd literally never see her read ever! I thought it must be a good book if it grasped her attention.
Some Details
---
Paperback, 288 pages
Published September 1st 1998 by HarperPerennial / Perennial Classics (first published January 1st 1932)
Genres:
Classics,
Fiction,
Science Fiction
 >
Dystopia
Synopsis
---
Brave New World is a dystopian novel by English author Aldous Huxley, written in 1931 and published in 1932. Largely set in a futuristic World State, inhabited by genetically modified citizens and an intelligence-based social hierarchy, the novel anticipates huge scientific advancements in reproductive technology, sleep-learning, psychological manipulation and classical conditioning that are combined to make a dystopian society which is challenged by only a single individual: the story's protagonist.
First Sentence
---
"A squat grey building of only thirty-four stories."
My Thoughts
---
When I picked up this book, I was not sure what to expect. I was aware that this book was highly studied in schools but I never thought of how pictorial this novel was. I would not like to read this book with my classmates at all!
"If one's different, one's bound to be lonely."
― Aldous Huxley, Brave New World
I thought this book was kinda scary. Of course there are some similarities that can already be stated in between this society and the fictional Brave New World society. Which was ultimately terrifying if you really think of it because Huxley wrote Brave New World maybe in the late twenties and early thirties. While reading this book I also thought a lot about the Soma, which is the drug that is highly consumed in this society and is used to control the people by crating a dependency; which made me think of all of the elements in our society that could correlate with the Soma. My first thought was social media, because most of us are dependent on social media and the internet nowadays and it seems most often to be used to influence our choices. I'm sure there are many other correlations in between BNW society and ours, which is all the more creepy!
"One believes things because one has been conditioned to believe them."
― Aldous Huxley, Brave New World
To keep the ominous vibe going I'd like to talk about how freaky these characters are. They are literally robots, they have no emotions! I'd hate to live in a society with no emotions! John was the only character that had any semblance of real emotion and his emotionally driven perspective is what seemingly leaked the flaws of this quintessential society. I preferred John's role and narrative above all others in the story because at times the emotionless characters where hard for me to associate with and understand and it got kinda boring in the middle of the book.
The Wrap Up
---
Aldous Huxley's Brave New World is an enthralling read. I can not imagine someone from his time writing such a terrifyingly accurate depiction of a futuristic society that may actually be in our midst!
"Actual happiness always looks pretty squalid in comparison with the overcompensations for misery. And, of course, stability isn't nearly so spectacular as instability. And being contented has none of the glamour of a good fight against misfortune, none of the picturesqueness of a struggle with temptation, or a fatal overthrow by passion or doubt. Happiness is never grand."
― Aldous Huxley, Brave New World