Title: We Were Liars
Author: E. Lockhart
Publisher: Random House Children's Books
Publication Date: May 13, 2014
Pages: 225
Price: 15.95$ CAD (Hardcover) at Indigo Books & Music Online
---
We Were Liars was a super great read. I finished it in one day during my camping trip on Grand Manan Island. It was so awesome! I was biking to the beach to read my book by the ocean annnd the book takes place on an island too! What a coincidence. 🙂
Synopsis 
 A beautiful and distinguished family.
A private island.
A brilliant, damaged girl; a passionate, political boy.
A group of four friends—the Liars—whose friendship turns destructive.
A revolution. An accident. A secret.
Lies upon lies.
True love.
The truth.
So we start off with Cadence, a teen girl who is part of a very wealthy family, the Sinclairs. Her grandfather, Harris, is basically where all the money comes from. Here's the Sinclair family tree thats at the beginning of the book: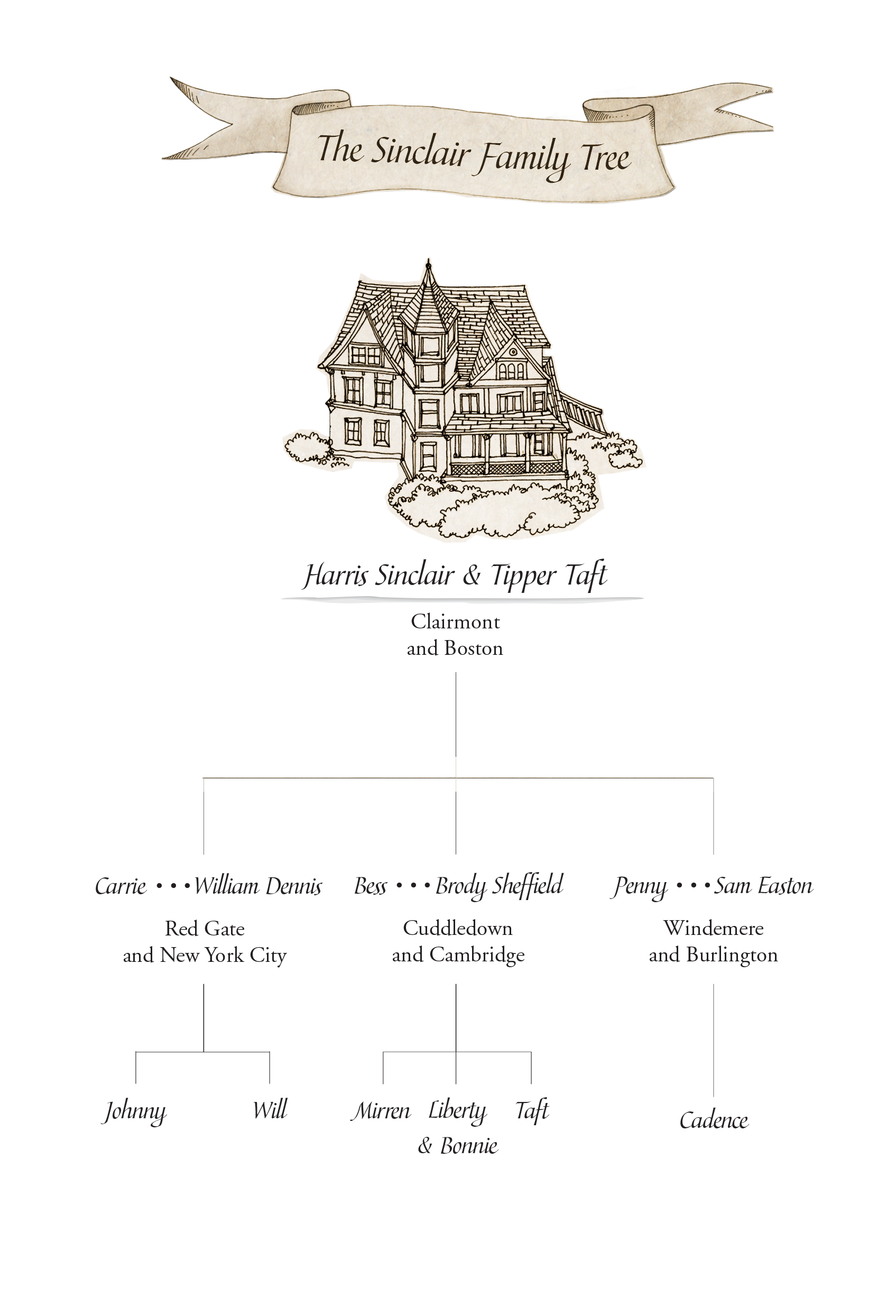 All the Sinclairs reunite on their private island, Beechwood, each summer. At this island, the adults dispute and fight most of the time so Cadence, Mirren, and Johnny hang out by themselves. One summer, Johnny brings his friend Gat from New York, to Beechwood. Cadence, Mirren, Johnny and Gat become inseparable, they call themselves "The Liars" and they all come back to the island each summer to hang out again.
Map of Beechwood Island:
One summer, Cadence is victim of a fatal accident on the island. She doesn't remember how the accident happened. She forgot most of what happened that summer too because the accident heavily impacted her memory. The proceeding summer, Cadence doesn't return to Beechwood. Instead, she goes to Europe with her divorced dad, Sam. Cadence is on multiple drugs for her migraines since the accident because she's had chronic headaches that never seem to stop no matter what the doctors prescribed.
The following summer, Cadence has had enough. Her dad wants to bring her to Australia this time. She never even wanted to go to Europe, she wanted to return to The Liars and her beloved island. While pleading with her mother, Cadence gets the chance to return to Beechwood for four weeks. However, once at Beechwood, her aunts act coldly towards her arrival, Harris' residence has been completely demolished and rebuilt for no apparent reason, Cadence's migraines become worse, and no one will tell her what truly happened two summers ago. Cadence only has four weeks to discover the harsh truth.
Review 
Probably the best plot-twist I have even encountered in my lifetime. We Were Liars made me shed a tear or two but its was definitely a worthwhile read. I loved how the book was separated in five parts so we could get an exert from each summer since the accident, her time with the liars before, her time back on the island after her accident, and when she finds out the truth. I also enjoyed the small chapters, they elaborated on all that needed elaborating and never got boring or long to read.
I think it would of been nice to explain a little more how everything turned out at the end though. When I was reading the end I was so captivated, like "YES I'm going to find out what really happened!" and then it was like "Ok, so this and this and this happened, and now the liars are going for a swim, but they aren't even there anymore because they have actually been dead for two years and Cadence is just seeing them." Like WHAT JUST HAPPENED! HOW IS SHE SEING THEM?!! I had to close the book and just think about the ending for a while before I finally caught on to what happened like all of the ties that could be made at the beginning of the book with the end for example; Harris' house, the headaches, the "mystery" accident, etc.
Also Gat and Cadence were super cute, their relationship was fun to watch develop and super sad to watch end. I like how they both loved books so much and wrote their names on each others hands. If that isn't friendship/relationship goals, I don't know what is! 🙂
"We are liars. We are beautiful and privileged. We are cracked and broken."
― E. Lockhart, We Were Liars
Final Thoughts/Recommendation 





Reading We Were Liars was an eye-opening experience for me. I know it is only a work of fiction, but even so, this novel really opened up to me about the struggles that families as rich as Cadence's face too. Just because they are wealthy doesn't mean their lives are perfect! I liked how this novel focuses on family issues because I haven't seen many other books who talk about dysfunctional families such as the Sinclairs.
The mystery and plot was also super good. Again, I'm thankful for the short chapters and time jumps because I got to see the whole story without it getting boring. The added illustration and family tree at the beginning of the novel (I included the pictures in the synopsis) really helped me distinguish who was who and where they all lived on Beechwood and off the island. They were also super pretty! I'd loooveee to own an island as pretty as Beechwood! 😉
"One day, she ventured to the palace library and was delighted to find what good company books could be."
― E. Lockhart, We Were Liars
I'd recommend this book to someone who enjoys a good contemporary/mystery/young adult read. It was super captivating and easy to read and its THE perfect read for summer. I read this for the first time in July as I said earlier, but I actually re-read it a couple weeks ago because I saw it at my public library in french – anyway, it was totally worth my time in both languages. I think We Were Liars was probably one of my top ten fav reads from 2018! I hope you read it too! (I cried quite a bit at the ending though so, umm, beware for intense displays of emotion?) 🙂
Looking at this picture makes me miss summer so much! Fall is getting WAY too cold! 🙁 
I hope you enjoyed my review of We Were Liars. If you pick it up, let me know! I'd love to hear what you thought of it!
I hope you all have a good Remembrance day weekend!
-Emma♥♥♥
Photo Sources
Cover png
https://www.chapters.indigo.ca/en-ca/books/we-were-liars/9780385741262-item.html?ref=item_page%3avariation
Sinclair tree
https://www.google.ca/search?q=sinclair+family+tree&source=lnms&tbm=isch&sa=X&ved=0ahUKEwiEzZbmwcjeAhXnYt8KHezYBKIQ_AUIDigB&biw=1364&bih=900#imgrc=OaUVFLpL_8toMM:
Beechwood Map
https://www.google.ca/search?tbm=isch&q=beechwood+map&chips=q:beechwood+map,online_chips:island&usg=AI4_-kRryvTTL4m_hWpx7Phb35V1OxrtTw&sa=X&ved=0ahUKEwju4IDsxsjeAhUC84MKHT_OCYUQ4lYIKCgB&biw=1364&bih=900&dpr=2#imgrc=o2UfImcFzYcXxM: