Title: Jane Eyre
Author: Charlotte Brontë
Publisher: Penguin
Publication date: First edition, October 16, 1847 Penguin English Library edition, 2012
Pages: 548
Price: 13.57$ CAN (paperback) at Indigo Books & Music Online
---
HEY EVERYONE! It's been a minute! (more like four months… whoops?) But I'm back, for god knows how long. School just started and ur girl is a sophomore! Math is much harder than I expected but I think I'll make it! 🙂 Had so much fun reading outside these past weeks, the fall air and leaves are perfect with a good book! Sorta bummed out that it is starting to get really cold in Fredericton, but that means Christmas is coming so I'll deal with it lol. Hope you enjoy my review of Jane Eyre!
Short Description
Orphaned into the household of her Aunt Reed at Gateshead, subject to the cruel regime at Lowood charity school, Jane Eyre nonetheless emerges unbroken in spirit and integrity.

She takes up the post of governess at Thornfield, falls in love with Mr. Rochester, and discovers the impediment to their lawful marriage in a story that transcends melodrama to portray a woman's passionate search for a wider and richer life than Victorian society traditionally allowed.

With a heroine full of yearning, the dangerous secrets she encounters, and the choices she finally makes, Charlotte Bronte's innovative and enduring romantic novel continues to engage and provoke readers. -Synopsis from Goodreads
Review
(We got spoilahs, so read at your own risk!)
I've always read mostly YA fiction and being taught in a francophone school I thought my comprehension in English was fairly weak. That's why I thought picking up a literary classic such as Jane Eyre might be a little bit overwhelming for me. It was actually beyond my expectations! Jane Eyre was so captivating and I understood the storyline better than I thought.
Oh my gosh, the character development though! Even if the vocabulary was a couple notches higher that what I'm used to, I could still fully understand the major "glow up" that Jane had. She literally went from rags to riches! I liked how this book was not just one story during a specific time but it was a bunch of small stories throughout her life that led to the beginning of her life as Mrs. Rochester.
Also I must mention "ze oh so adorable love story" of Jane and Mr. Rochester?!! Yes, I understand that Mr. Rochester is like a 40 year old man who would be considered a pedophile today because Jane is literally 17 when they meet, but I mean ya gotta admit, it was pretty cute sometimes! ( It was also sometimes really weird, but hey, they are happy with each other so I can't say nothing about it! This book is also like from a completely different setting so I guess pedophilia did not exist then?) I also got a little weirded out when Jane like slept with Helen on her deathbed. Like Jane, you don't want to get sick too! Get outta there! But in the end, it was pretty sad when Helen died so I'm happy that Jane was there for her last moments. 🙁
Oh and don't get me started on those PLOT TWISTS! WHAAAAT? Mr. Rochester is married?? Mr. Rochester has a psycho wife? Mr. Rochester led on Blanche Ingram!? He loves Jane?! He becomes crippled while saving his servants during the fire that cause the death of said wife and destruction of Thornfield? St-John wants to marry Jane? But Jane is St-Johns cousin? Jane returns to Mr. Rochester because she hears his voice in the wind calling for her? Mr. Rochester is a blind amputee!? Jane suddenly becomes super duper rich! SEE! So many plot twists and suprises! Sorry for all the !!!!! and enumerations, just thinking about all that happened in this book makes me super fired up lol. 😉
"The soul, fortunately, has an interpreter – often an unconscious but still a faithful interpreter – in the eye."
― Charlotte Brontë, Jane Eyre
Final Thoughts/Recomendation





This book was super fun to read. I liked the jumps in the timeline so that we can get to know the mindset of childhood Jane and the mature adult Jane became at the end of the novel. However, it took me SOOO long to finish this book. Don't get me wrong, I throughly enjoyed reading Jane Eyre, but it took me about a week and a half to read it. That's pretty long for me. It never got boring but after five days I was longing to pick up another book because it seemed like pages kept on being added!
I would recommend this book to someone who likes a good romance and who, of course, enjoys reading in a different time period. Jane Eyre really inspired me to do what I believe is right and to lead my own path. I would also recommend it to someone who already reads a lot. One of my friends tried to read a page and said. "How do you read this stuff? Like who talks like that!" I laughed quite a bit after. I also really enjoyed reading the Penguin English Library edition because it was perfect for fall because of the little leaves on the cover and also it had this like sort of soft matte feel to it, idk I thought it was pretty cool. Oh I also want to buy the whole Penguin English Library collection now because they are wayyyyyy cheaper than the clothbound classics AND the orange accents on the spines look amazing when you line the whole collection up! I need to stop rambling and obsessing over book covers! If you want a good heartwarming story to read in this cold weather, I strongly suggest you pick up Jane Eyre!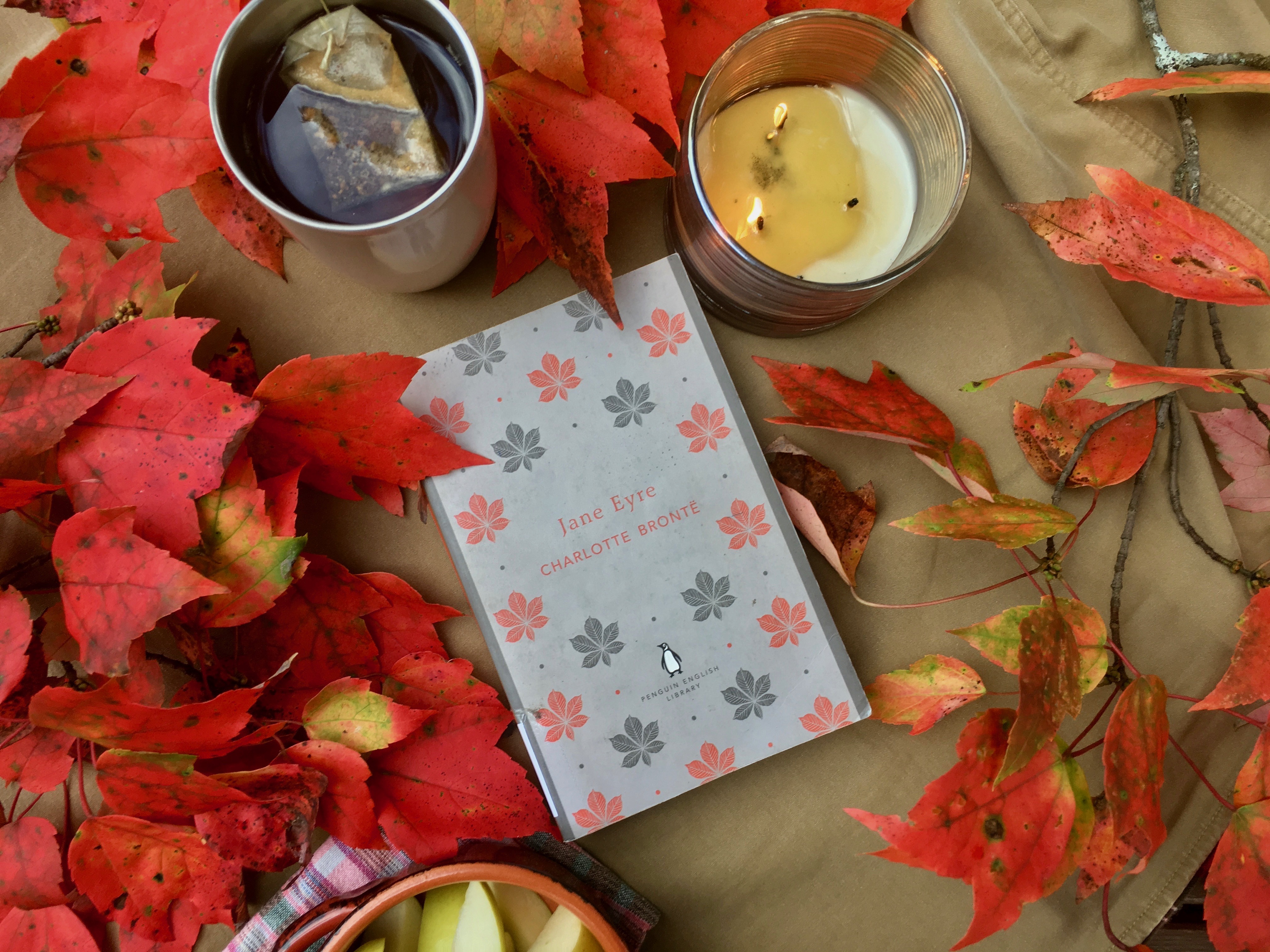 Literally THE perfect book for fall!
I'd love to hear what what you thought of Jane Eyre or my review! Feel free to let me know!
Have an amazing weekend!♥♥♥
– Emma 🙂
Jane Eyre Penguin English Library cover png from:
https://www.google.ca/search?q=jane+eyre+penguin+english+library+cover+png&oq=jane+eyre+&aqs=chrome.0.69i59l2j69i60l2j69i57j69i60.3772j0j7&sourceid=chrome&ie=UTF-8