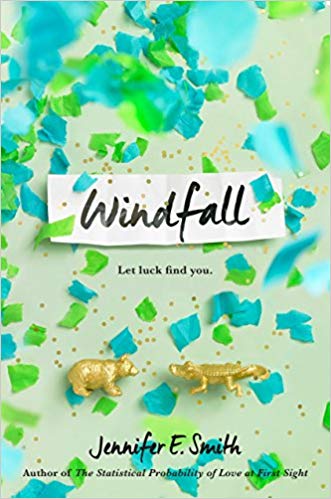 Author: Jennifer E. Smith
Publisher: Delacorte Press
Publication date: May 2, 2017
Pages: 416
Price: $27.82 CAD (reinforced library binding) at Indigo Books & Music Online
---
Synopsis
Let luck find you.

Alice doesn't believe in luck—at least, not the good kind. But she does believe in love, and for some time now, she's been pining for her best friend, Teddy. On his eighteenth birthday—just when it seems they might be on the brink of something—she buys him a lottery ticket on a lark. To their astonishment, he wins $140 million, and in an instant, everything changes.

At first, it seems like a dream come true, especially since the two of them are no strangers to misfortune. As a kid, Alice won the worst kind of lottery possible when her parents died just over a year apart from each other. And Teddy's father abandoned his family not long after that, leaving them to grapple with his gambling debts. Through it all, Teddy and Alice have leaned on each other. But now, as they negotiate the ripple effects of Teddy's newfound wealth, a gulf opens between them. And soon, the money starts to feel like more of a curse than a windfall.

As they try to find their way back to each other, Alice learns more about herself than she ever could have imagined…and about the unexpected ways in which luck and love sometimes intersect.
First Sentence
"When the man behind the counter asks for my lucky number, I hesitate."
Review
This was a pretty good book. Cheesy factor aside – the plot was interesting and the main idea, I mean winning the the lottery and giving the ticket to your friend is pretty neat! For a contemporary novel, I feel like this one really stands out!
I find that Windfall was a bit dramatic though, the guy, Teddy, gets the winning lottery ticket as a birthday gift from his long time best pal, Alice. After he gets all rich and stuff, he starts to appear on TV an has paparazzi following him. Dude ain't famous! He's just rich! I don't know its just when someone wins the lottery they don't get famous they just take the money and move to the Bahamas or something. I don't think they go on talk shows. Therefore, I think that Windfall might have taken it a bit too far. Other than that, Windfall's plot was pretty straightforward but I felt like it did not have to much to it. Windfall was both boring and entertaining at the same time. I think I liked the main idea but wasn't liking the way it was elaborated.
In the end, this novel was enjoyable, not as good as The Astonishing Color of After but still okay. I think that it lacked a lot of idea but the characters were very well developed and it was a very nice book to read on a rainy day!
"This," I say softly, "is going to change everything."
I don't mean it the way I usually do.
I don't mean that change is hard or scary, though it's definitely both.
I mean only to say this: that sometimes, through good luck or bad, through curses or fate, the world cracks itself open, and afterward nothing will ever be the same.
All I mean is that this seems like one of those times."

–Windfall
Final Review/Recommendation



It was hard for me to decide if I enjoyed Windfall or not. It had a good main idea and the novels flow was really good. It was a quick read for me and was a good way to spend my day. It was merely enjoyable, I sort of feel indifferent this one, usually book leave me moved and euphoric, but I'm not getting much of anything with this one!
I'd recommend this novel to anyone who enjoys an dimmed down contemporary, not to intense, pretty neutral but who want a little twist on different from their usual contemporary because I feel like Windfall could accomplish that!
Let me know what you thought of Windfall!
Have a great day!
-Emma 😉
Cover source:
https://www.google.com/search?q=windfall+cover+photo+
png&rlz=1C5CHFA_enCA786CA86&source=lnms&tbm
=isch&sa=X&ved=0ahUKEwiGhKvpqK3hAhUHnKwK
HfUBA6IQ_AUIDigB&biw=1101&bih=724#imgdii=uLB9
p7vw0X6umM:&imgrc=_ehSzwJgkiw-aM: