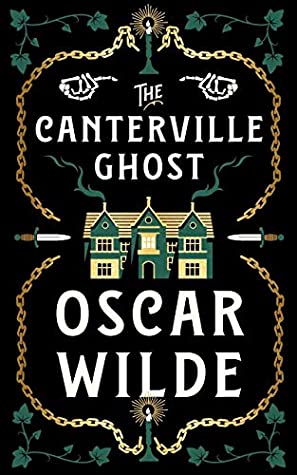 I was bored and I was looking at the free Apple Books when I found The Canterville Ghost. It sounded interesting and it was quite short! I don't usually read short stories out of the blue like this. I am typically a strict 300pagesisconsideredashortbook typa gal. The Canterville Ghost may be a short read but I think she's worth it!
Some Details
---
Paperback, 72 pages
Published October 31st 2019 by Daunt Books (first published February 23rd 1887)
Genres: Classics, Fiction, Short Stories, Fantasy, Humour.
Synopsis
---
This is Oscar Wilde's tale of the American family moved into a British mansion, Canterville Chase, much to the annoyance its tired ghost. The family — which refuses to believe in him — is in Wilde's way a commentary on the British nobility of the day — and on the Americans, too. The tale, like many of Wilde's, is rich with allusion, but ends as sentimental romance. . .
My Thoughts (just a couple)
---
I had no idea old books could be so funny! At first, I thought this book was going to be scary and haunting but it was none of the sort! People have always told me I should read more of Wilde's work but I've put it off for so long. I will surely get to my copy of A Picture of Dorian Gray soon enough!
"They were evidently people on a low, material plane of existence, and quite incapable of appreciating the symbolic value of sensuous phenomena."
― Oscar Wilde, The Canterville Ghost
I loved how arrogant and ignorant the american family is towards the ghost, I think these traits can be seen in a lot of americans right now. How realistic! I also liked all of the ghosts sass towards the family and his desperation when they did not believe him.
"Oh, I hate the cheap severity of abstract ethics!"
― Oscar Wilde, The Canterville Ghost
I think The Canterville Ghost is a fun play on the traditional ghost stories written in that era. I find it very unique that Wilde chose to write a satirical version of the formal ghost story rather than one of the actually scary ghost tales. This is a quick and funny read with a sweet ending that I won't spoil. I just downloaded the free copy on Apple Books and read it while I was waiting for an appointment. I think this was a positive introduction to Oscar Wilde's work! This book is not scary at all and honestly I would read this book as a bedtime story to some kids. Super sweet. 🙂
The Wrap Up
---
I don't have much to complain about The Canterville Ghost, although if I've learned on thing from reading this novella its that just because it's short does not mean it's bad! I usually opt for the bigger side. I like my 500 pages of narrative albeit lately I've been reading smaller books like The Metamorphosis, A Clockwork Orange, and A Canterville Ghost, which is making me realize that a really good book can come in any color, any shape, and any size!
"Death must be so beautiful. To lie in the soft brown earth, with the grasses waving above one's head, and listen to silence. To have no yesterday, and no tomorrow. To forget time, to forgive life, to be at peace."
― Oscar Wilde, The Canterville Ghost
Add The Canterville Ghost to your Goodreads shelf  here.